Intermittent Pneumatic Compression Pump

Treats Lymphoedema, Lipoedema, and Venous conditions
Intermittent pneumatic compression is the latest technology to reduce swelling, soften skin and improve tissue health. This is another tool that we use at the Lymph Clinic in Combined Decongestive Therapy but this therapy can also be used for Sports performance and recovery.
This is a relaxing, easy to use therapy whereby the patient sits while wearing an inflatable sleeve on the affected/recovering limb at the desired pressure for the limb and/or condition.
This is connected to a intermittent pneumatic pump that inflates and deflates the sleeve which mimics MLD.
This doesn't replace MLD treatments but does help to enhance lymphatic flow.
Can be used for the following ~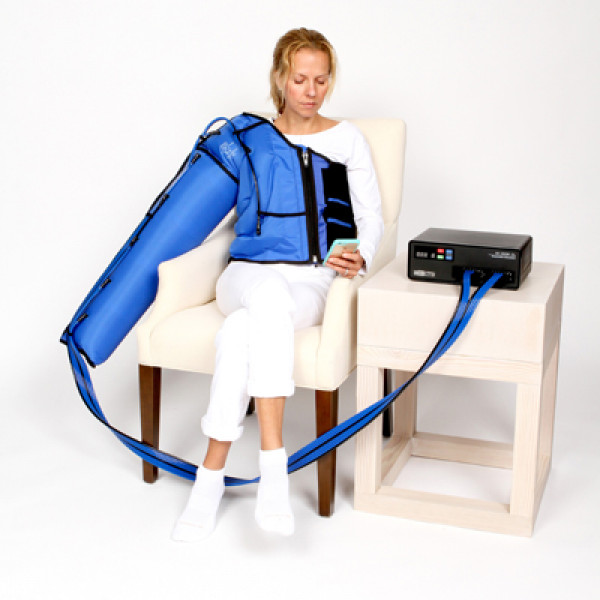 Lymphoedema - arm, leg, chest, abdomen

Lipoedema

Traumatic oedema (swelling) as a result of soft tissue injuries.

Chronic venous oedema (swelling) plus will assist healing of ulcerations and lipodermatosclerosis.

Sports recovery & performance - prevention of cramps and alleviate delayed onset muscle soreness so you're ready to embark on another training session or be at your best for event day​
Book an individual session with the Lymph Clinic and increase the frequency of your treatments at a lower cost or talk with Lesley about purchasing a compression pump system and garment for your home use for ongoing long term management.

Everything started making sense, and with Lymph Clinic's ongoing support and treatments, I started to believe that I could live with Lymphoedema
Cindy, Queenstown
After 3 months of treatments I was able to lower my prescription and do away with it completely after 6 months
Loretta, Wanaka
I haven't had a headache for at least a few days. I'm unsure exactly how long I've been pain free in my head, but it's a break through!
Carol, Central Otago